View our clubs
After School Activities & Free Workshops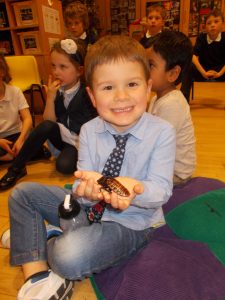 The Kids Collective aim is to enrich children's leisure time. Before and after school, and during school holidays, we provide an excellent range of activities, offering diverse opportunities for having fun. For children up to the end of Reception year, we offer a continuation of the statutory EYFS (Early Years Foundation Stage) framework and link with our host schools to ensure continuity of child care, development and assessment. More information about the EYFS can be found on the Foundation Years website. Activities are well-planned and resourced and they offer children the chance to join in a full range of activities including art and crafts, music, dance, sport, cookery and extensive IT provision.
During term-time, we run weekly workshops, such as: cookery, music and movement. External specialists are invited to run one-off workshops, such as: Mad Science Workshops, Yoga, First Aid Workshops, Kiddy Cook cookery workshops or Animal Wildlife Roadshows. During the holidays, each week is packed with a variety of activities, specialist optional workshops, such as: archery, circus skills and optional trips.
Workshops @ Kids Collective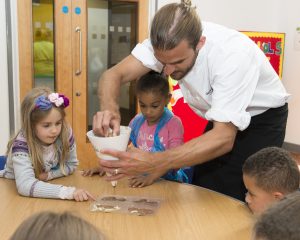 Kiddy Cook: A 1-hour workshop with Nikki from Kiddy Cook, where children have a go at making pizza, dough balls and garlic butter.
Chocolate Workshop:  This chocolate workshop ran by 'Oliver's Chocolate Parties' gives children the opportunity to learn about where chocolate comes from, how it is made and make their very own chocolate to take home.
Yoga Workshop: Children can take part in our yoga workshop led by 'Studio One Yoga', where they learn breathing techniques, stretches and poses.
Dance Workshop: A 1-hour dance workshop ran by 'Stalder Dance Academy', where the children are taught a variety of dance moves and they can put together a short dance routine using the skills they have learnt.
Zoolab:  During the session, the children are given the opportunity to handle a variety of wild and wonderful creatures and discuss each creature's natural habitat, diet and interesting facts.
First Aid Workshop: A workshop held by St John's Ambulance where children can learn basic first aid skills.
Tennis Workshop: A fun workshop ran by 'Shooting Stars'. Children will learn basic racket techniques and ball skills whilst promoting team building.
Fire Service Visit: A chance for the children to understand and learn about safety and potential fire hazards whist exploring the fire engine itself.
Manchester Storm: The children learn the skills and techniques involved in ice hockey with the coaches and players from 'Manchester Storm'. The children will have the opportunity to put these skills into practice at the end of the session in a mini-hockey match.
Sale Sharks: A tag rugby session ran by the coaches and players from 'Sale Sharks', where the children learn the skills and techniques that are required in a game of rugby.