Children helping children: Elmscot Group Nurseries and Kids Collective out of School Clubs raise money for the 'Children's Adventure Farm Trust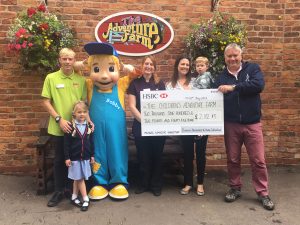 The children and staff of Elmscot Group nurseries and Kids Collective out of School Clubs, located in Altrincham, Hale, Sale and Timperley, have raised a fantastic £2,102 with a 'fun'draising activity week for the Children's Adventure Farm Trust, a local charity based at the beautiful Booth Bank Farm in the heart of the Cheshire countryside. They provide a variety of programmes for terminally ill, disabled and disadvantaged children from all over the North West.
Children aged 0-11 years (along with teachers and parents!) acros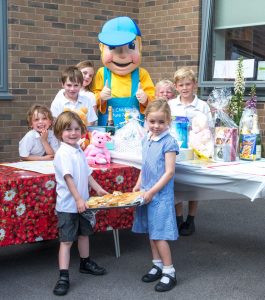 s all 4 day nurseries and 8 out of School Clubs organised raffles, tombola's, competitions such as 'Guess how many sweets in the jar?', Lucky Dips, Cake sales, 'Dress-up Week', Pyjama Parties, a sponsored 'Toddle Waddle' and even a 'Wacky Hair Day'! It was weeks in the planning and CAFT's mascot, 'Bobby', came to visit the children at their nurseries and clubs to explain why their efforts were so important for the children accessing the facilities at the farm.
Hannah Reeves, Kids Collective Group Manager said "We are delighted that we have managed to raise such a substantial amount of money for a charity that is so close to our hearts. A huge thank you to all our parents and children for getting involved and supporting a very worthy cause."
Rob Bashforth, of CAFT explained ation and recreational therapy.""The money raised by the Elmscot Group Nurseries and Kids Collective will provide a sensory ball pool for our children to enjoy, which  will help with physical stimulation and recreational therapy."