View our clubs
Upcoming Holiday Club Activities
As well as full or half-day sessions, we have a 'short day' where parents can book from 9am to 3pm (including lunch). Parents can also book by the hour.
Clubs are very popular: certain days of the week and special events that require pre-booking can get full very quickly, so if you know in advance what childcare you need, please try to book early to avoid disappointment.
Look what we get up to each day
Kids Collective provides outstanding Holiday Clubs and welcomes children aged 3-11 years from all schools.
We have 2 weeks of fun, exciting workshops including trips to Silver Blades ice rink and Eureka in Halifax and not to mention the arts, crafts and activities planned for the Easter holidays.
Week 1 is 'Healthy Heroes' and week 2 is all about Disney. We have a holiday cl
ub packed full of arts, crafts and activities
During week one we will be become healthy heroes by baking tasty banana bread, making delicious granola lollipop bites and watch out for flapjack Friday! We have a hands on first aid workshop where children will learn and practice life saving tecniques. We will also be exploring germs using our magic glitter bug machine and making fruit & vegetable Fimo keyrings to take home.
Get set for week two….we have a week packed full of all things Disney. We'll be making homemade pizzas, taking part in a pirate treasure hunt and make Mickey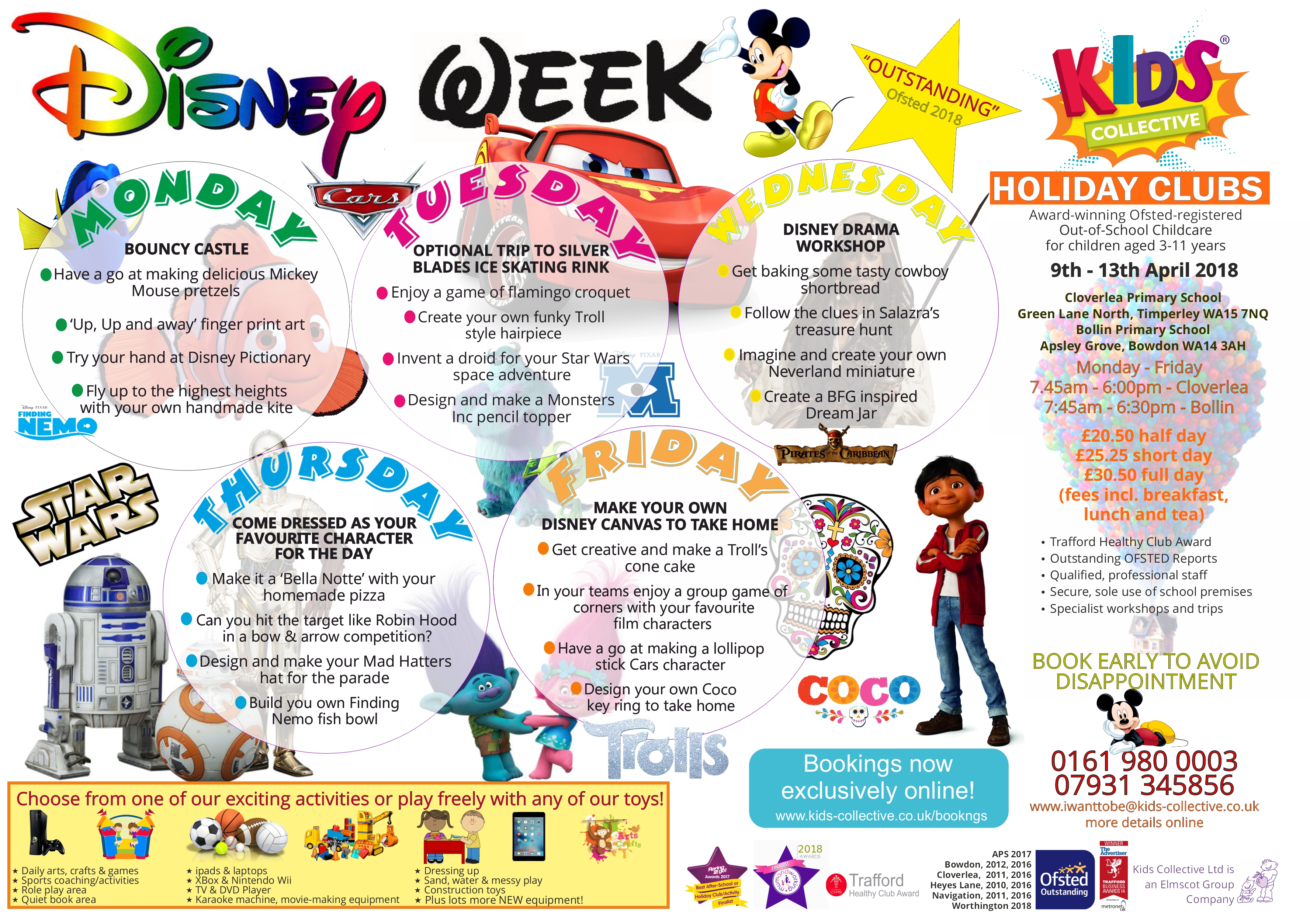 Mouse pretzels. For those Star Wars fans we'll be inventing droids for a space adventure. If all that wasn't enough, in addition we have a huge selection of craft activities and  a Bouncy Castle.
For the Year 3+ children who are too cool for school, there is a separate Chill Out Zone! And don't forget the Xbox, Wii and iPads! All supervised by qualified, trained and experienced Kids Collective Playworkers.
As well as special daily events and a broad variety of structured adult-led activities for your child to enjoy, they also have supervised free access to:
arts/crafts materials
sports equipment/activities
role play area & den-making
quiet book area
iPads & laptops
TV, video, DVD
karaoke machine
movie-making equipment
dressing up
construction toys
And much more!
Previous Holiday Club Themes
Heroes Quest – February 2018
Horrible Histories – October 2017
Into the Blue – October 2017
Planes, trains & automobiles- Summer 2017
World of Craft- Summer 2017
Eco Warrior- Summer 2017
Rumble in the Jungle – Summer 2017
Minibeast Mayhem!- Summer 2017
Circus is in Town – Summer 2017
Musical Madness – Summer 2017
Ready, Steady, Cook! – Whit 2017
Back to Nature – Whit 2017
Let's get cracking! – Easter 2017
World of Magic & Wizardry – Easter 2017
To Infinity & Beyond! – February 2017
Flash, Bang Science! – February 2016
Easter Eggstravaganza – Easter 2016
Fantastic Fun & Fitness – Easter 2016
Under The Sea – Easter 2016
Superaction Heroes – Whit 2016
Lights, Camera, Action! – Whit 2016
Elements Eggsperiments – Easter 2015
Easter Eggcitement – Easter 2015
Your invitation to the Magic World – Whit 2015
Dr Seuss comes to Town – Whit 2015
Around the World in 35 days – Summer 2015